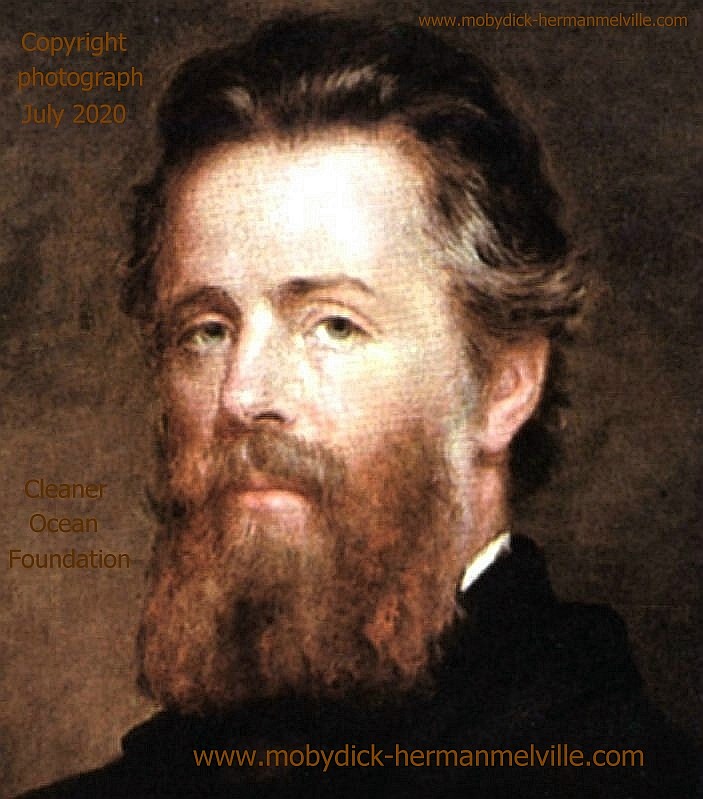 Herman Melville was the author of a story about what we'd now consider an illegal activity, the commercial hunting of whales for oil and meat. Whaling is still carried out by Japan, Iceland and Canada, among other nations, though most nations voluntarily abstain in the interests of conserving these magnificent animals - as per International Whaling Commission guidelines.
Back <<<

CHAPTER 92. Ambergris.

Now this ambergris is a very curious substance, and so important as an article of commerce, that in 1791 a certain Nantucket-born Captain Coffin was examined at the bar of the English House of Commons on that subject. For at that time, and indeed until a comparatively late day, the precise origin of ambergris remained, like amber itself, a problem to the learned. Though the word ambergris is but the French compound for grey amber, yet the two substances are quite distinct. For amber, though at times found on the sea-coast, is also dug up in some far inland soils, whereas ambergris is never found except upon the sea. Besides, amber is a hard, transparent, brittle, odorless substance, used for mouth-pieces to pipes, for beads and ornaments; but ambergris is soft, waxy, and so highly fragrant and spicy, that it is largely used in perfumery, in pastiles, precious candles, hair-powders, and pomatum. The Turks use it in cooking, and also carry it to Mecca, for the same purpose that frankincense is carried to St. Peter's in Rome. Some wine merchants drop a few grains into claret, to flavor it.

Who would think, then, that such fine ladies and gentlemen should regale themselves with an essence found in the inglorious bowels of a sick whale! Yet so it is. By some, ambergris is supposed to be the cause, and by others the effect, of the dyspepsia in the whale. How to cure such a dyspepsia it were hard to say, unless by administering three or four boat loads of Brandreth's pills, and then running out of harm's way, as laborers do in blasting rocks.

I have forgotten to say that there were found in this ambergris, certain hard, round, bony plates, which at first Stubb thought might be sailors' trowsers buttons; but it afterwards turned out that they were nothing more than pieces of small squid bones embalmed in that manner.

Now that the incorruption of this most fragrant ambergris should be found in the heart of such decay; is this nothing? Bethink thee of that saying of St. Paul in Corinthians, about corruption and incorruption; how that we are sown in dishonour, but raised in glory. And likewise call to mind that saying of Paracelsus about what it is that maketh the best musk. Also forget not the strange fact that of all things of ill-savor, Cologne-water, in its rudimental manufacturing stages, is the worst.

I should like to conclude the chapter with the above appeal, but cannot, owing to my anxiety to repel a charge often made against whalemen, and which, in the estimation of some already biased minds, might be considered as indirectly substantiated by what has been said of the Frenchman's two whales. Elsewhere in this volume the slanderous aspersion has been disproved, that the vocation of whaling is throughout a slatternly, untidy business. But there is another thing to rebut. They hint that all whales always smell bad. Now how did this odious stigma originate?

I opine, that it is plainly traceable to the first arrival of the Greenland whaling ships in London, more than two centuries ago. Because those whalemen did not then, and do not now, try out their oil at sea as the Southern ships have always done; but cutting up the fresh blubber in small bits, thrust it through the bung holes of large casks, and carry it home in that manner; the shortness of the season in those Icy Seas, and the sudden and violent storms to which they are exposed, forbidding any other course. The consequence is, that upon breaking into the hold, and unloading one of these whale cemeteries, in the Greenland dock, a savor is given forth somewhat similar to that arising from excavating an old city grave-yard, for the foundations of a Lying-in-Hospital.

I partly surmise also, that this wicked charge against whalers may be likewise imputed to the existence on the coast of Greenland, in former times, of a Dutch village called Schmerenburgh or Smeerenberg, which latter name is the one used by the learned Fogo Von Slack, in his great work on Smells, a text-book on that subject. As its name imports (smeer, fat; berg, to put up), this village was founded in order to afford a place for the blubber of the Dutch whale fleet to be tried out, without being taken home to Holland for that purpose. It was a collection of furnaces, fat-kettles, and oil sheds; and when the works were in full operation certainly gave forth no very pleasant savor. But all this is quite different with a South Sea Sperm Whaler; which in a voyage of four years perhaps, after completely filling her hold with oil, does not, perhaps, consume fifty days in the business of boiling out; and in the state that it is casked, the oil is nearly scentless.
The truth is, that living or dead, if but decently treated, whales as a species are by no means creatures of ill odor; nor can whalemen be recognised, as the people of the middle ages affected to detect a Jew in the company, by the nose. Nor indeed can the whale possibly be otherwise than fragrant, when, as a general thing, he enjoys such high health; taking abundance of exercise; always out of doors; though, it is true, seldom in the open air. I say, that the motion of a Sperm Whale's flukes above water dispenses a perfume, as when a musk-scented lady rustles her dress in a warm parlor. What then shall I liken the Sperm Whale to for fragrance, considering his magnitude? Must it not be to that famous elephant, with jewelled tusks, and redolent with myrrh, which was led out of an Indian town to do honour to Alexander the Great?
Next >>>

BOOK CHAPTERS
CHAPTER 26. Knights and Squires.
CHAPTER 27. Knights and Squires.
CHAPTER 29. Enter Ahab; to Him, Stubb.
CHAPTER 39. First Night Watch.
CHAPTER 40. Midnight, Forecastle.
CHAPTER 42. The Whiteness of The Whale.
CHAPTER 48. The First Lowering.
CHAPTER 50. Ahab's Boat and Crew. Fedallah.
CHAPTER 54. The Town-Ho's Story.
CHAPTER 55. Of the Monstrous Pictures of Whales.
CHAPTER 56. Of the Less Erroneous Pictures of Whales, and the True
CHAPTER 57. Of Whales in Paint; in Teeth; in Wood; in Sheet-Iron; in
CHAPTER 61. Stubb Kills a Whale.
CHAPTER 65. The Whale as a Dish.
CHAPTER 66. The Shark Massacre.
CHAPTER 71. The Jeroboam's Story.
CHAPTER 73. Stubb and Flask Kill a Right Whale; and Then Have a Talk
CHAPTER 74. The Sperm Whale's Head—Contrasted View.
CHAPTER 75. The Right Whale's Head—Contrasted View.
CHAPTER 76. The Battering-Ram.
CHAPTER 77. The Great Heidelburgh Tun.
CHAPTER 78. Cistern and Buckets.
CHAPTER 81. The Pequod Meets The Virgin.
CHAPTER 82. The Honour and Glory of Whaling.
CHAPTER 83. Jonah Historically Regarded.
CHAPTER 88. Schools and Schoolmasters.
CHAPTER 89. Fast-Fish and Loose-Fish.
CHAPTER 91. The Pequod Meets The Rose-Bud.
CHAPTER 94. A Squeeze of the Hand.
CHAPTER 98. Stowing Down and Clearing Up.
CHAPTER 102. A Bower in the Arsacides.
CHAPTER 103. Measurement of The Whale's Skeleton.
CHAPTER 104. The Fossil Whale.
CHAPTER 105. Does the Whale's Magnitude Diminish?—Will He Perish?
CHAPTER 108. Ahab and the Carpenter.
CHAPTER 109. Ahab and Starbuck in the Cabin.
CHAPTER 110. Queequeg in His Coffin.
CHAPTER 115. The Pequod Meets The Bachelor.
CHAPTER 120. The Deck Towards the End of the First Night Watch.
CHAPTER 121. Midnight.—The Forecastle Bulwarks.
CHAPTER 122. Midnight Aloft.—Thunder and Lightning.
CHAPTER 125. The Log and Line.
CHAPTER 128. The Pequod Meets The Rachel.
CHAPTER 131. The Pequod Meets The Delight.
CHAPTER 133. The Chase—First Day.
CHAPTER 134. The Chase—Second Day.
CHAPTER 135. The Chase.—Third Day.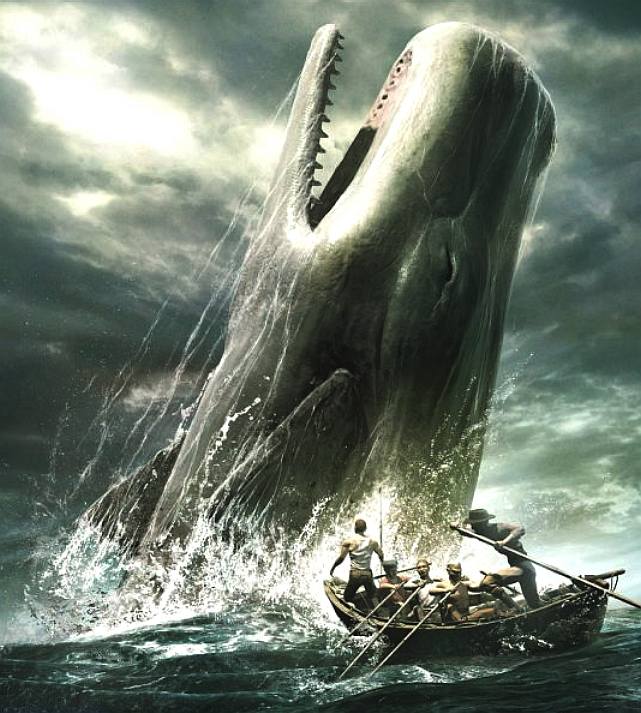 Moby Dick is the antogonist in this story of a great white 'bull' sperm whale that fought back at whalers who tried to harpoon him.
The idea came to Herman Melville after he spent time on a commercial whaler, where stories abounded of the sinking of the Essex in 1821 and Mocha Dick, a giant sperm whale that sank around 20 ships, before being harpooned in 1838.
Herman realised how fixated the sailors became, and he also became with the thought that there was a whale that nobody could catch, that represented a real risk to the whalers hunting whales, in that it was more sport than commercial operations.
Without any doubt this is one of the greatest novels coming out of America at this time and way off the beaten track, making it so interesting, reflecting the state of whaling and the economic importance in the developing the nation - giving the general public a taste of something adventurous that most people never think about.
Many films and graphic novel adaptations have been inspired by the writings of Herman Melville, from Marvel and Disney comics with good cause.
One such production in 2020 is a graphic novel about a giant humpback whale called Kulo Luna, that sinks a modern whaling boat, much as depicted in Herman Melville's Moby Dick, except that is this day and age whales have explosive harpoons to contend with, and sonar, from which there is no escape.
Please use our A-Z INDEX to navigate this site