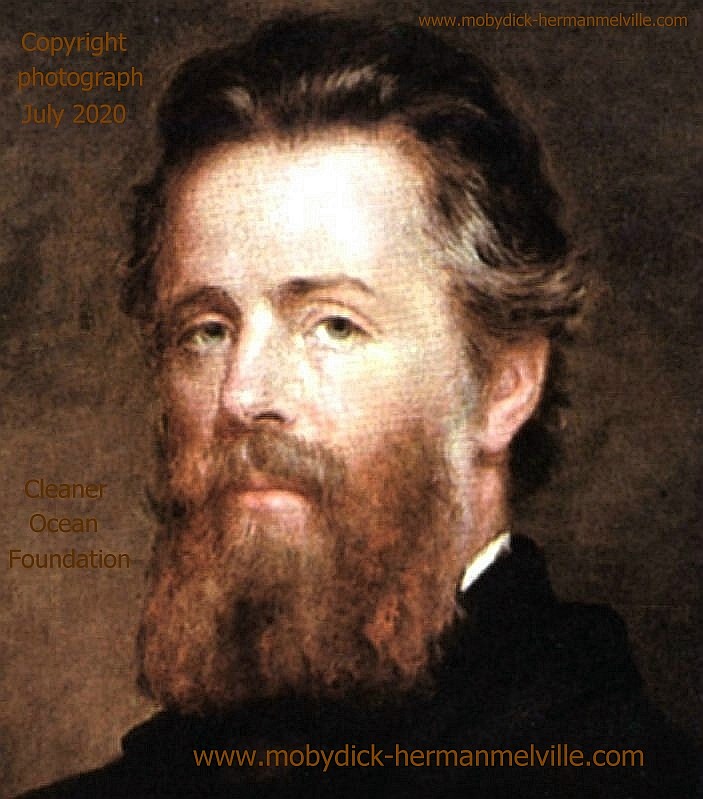 Herman Melville was the author of an account of what we'd now consider an illegal activity, the commercial hunting of whales for oil and meat.
Back <<<
CHAPTER 14. Nantucket

Nothing more happened on the passage worthy the mentioning; so, after a fine run, we safely arrived in Nantucket.

Nantucket! Take out your map and look at it. See what a real corner of the world it occupies; how it stands there, away off shore, more lonely than the Eddystone lighthouse. Look at it—a mere hillock, and elbow of sand; all beach, without a background. There is more sand there than you would use in twenty years as a substitute for blotting paper. Some gamesome wights will tell you that they have to plant weeds there, they don't grow naturally; that they import Canada thistles; that they have to send beyond seas for a spile to stop a leak in an oil cask; that pieces of wood in Nantucket are carried about like bits of the true cross in Rome; that people there plant toadstools before their houses, to get under the shade in summer time; that one blade of grass makes an oasis, three blades in a day's walk a prairie; that they wear quicksand shoes, something like Laplander snow-shoes; that they are so shut up, belted about, every way inclosed, surrounded, and made an utter island of by the ocean, that to their very chairs and tables small clams will sometimes be found adhering, as to the backs of sea turtles. But these extravaganzas only show that Nantucket is no Illinois.

Look now at the wondrous traditional story of how this island was settled by the red-men. Thus goes the legend. In olden times an eagle swooped down upon the New England coast, and carried off an infant Indian in his talons. With loud lament the parents saw their child borne out of sight over the wide waters. They resolved to follow in the same direction. Setting out in their canoes, after a perilous passage they discovered the island, and there they found an empty ivory casket,—the poor little Indian's skeleton.

What wonder, then, that these Nantucketers, born on a beach, should take to the sea for a livelihood! They first caught crabs and quohogs in the sand; grown bolder, they waded out with nets for mackerel; more experienced, they pushed off in boats and captured cod; and at last, launching a navy of great ships on the sea, explored this watery world; put an incessant belt of circumnavigations round it; peeped in at Behring's Straits; and in all seasons and all oceans declared everlasting war with the mightiest animated mass that has survived the flood; most monstrous and most mountainous! That Himmalehan, salt-sea Mastodon, clothed with such portentousness of unconscious power, that his very panics are more to be dreaded than his most fearless and malicious assaults!

And thus have these naked Nantucketers, these sea hermits, issuing from their ant-hill in the sea, overrun and conquered the watery world like so many Alexanders; parcelling out among them the Atlantic, Pacific, and Indian oceans, as the three pirate powers did Poland. Let America add Mexico to Texas, and pile Cuba upon Canada; let the English overswarm all India, and hang out their blazing banner from the sun; two thirds of this terraqueous globe are the Nantucketer's. For the sea is his; he owns it, as Emperors own empires; other seamen having but a right of way through it. Merchant ships are but extension bridges; armed ones but floating forts; even pirates and privateers, though following the sea as highwaymen the road, they but plunder other ships, other fragments of the land like themselves, without seeking to draw their living from the bottomless deep itself. The Nantucketer, he alone resides and riots on the sea; he alone, in Bible language, goes down to it in ships; to and fro ploughing it as his own special plantation. THERE is his home; THERE lies his business, which a Noah's flood would not interrupt, though it overwhelmed all the millions in China. He lives on the sea, as prairie cocks in the prairie; he hides among the waves, he climbs them as chamois hunters climb the Alps. For years he knows not the land; so that when he comes to it at last, it smells like another world, more strangely than the moon would to an Earthsman. With the landless gull, that at sunset folds her wings and is rocked to sleep between billows; so at nightfall, the Nantucketer, out of sight of land, furls his sails, and lays him to his rest, while under his very pillow rush herds of walruses and whales.
Next >>>

BOOK CHAPTERS
CHAPTER 26. Knights and Squires.
CHAPTER 27. Knights and Squires.
CHAPTER 29. Enter Ahab; to Him, Stubb.
CHAPTER 39. First Night Watch.
CHAPTER 40. Midnight, Forecastle.
CHAPTER 42. The Whiteness of The Whale.
CHAPTER 48. The First Lowering.
CHAPTER 50. Ahab's Boat and Crew. Fedallah.
CHAPTER 54. The Town-Ho's Story.
CHAPTER 55. Of the Monstrous Pictures of Whales.
CHAPTER 56. Of the Less Erroneous Pictures of Whales, and the True
CHAPTER 57. Of Whales in Paint; in Teeth; in Wood; in Sheet-Iron; in
CHAPTER 61. Stubb Kills a Whale.
CHAPTER 65. The Whale as a Dish.
CHAPTER 66. The Shark Massacre.
CHAPTER 71. The Jeroboam's Story.
CHAPTER 73. Stubb and Flask Kill a Right Whale; and Then Have a Talk
CHAPTER 74. The Sperm Whale's Head—Contrasted View.
CHAPTER 75. The Right Whale's Head—Contrasted View.
CHAPTER 76. The Battering-Ram.
CHAPTER 77. The Great Heidelburgh Tun.
CHAPTER 78. Cistern and Buckets.
CHAPTER 81. The Pequod Meets The Virgin.
CHAPTER 82. The Honour and Glory of Whaling.
CHAPTER 83. Jonah Historically Regarded.
CHAPTER 88. Schools and Schoolmasters.
CHAPTER 89. Fast-Fish and Loose-Fish.
CHAPTER 91. The Pequod Meets The Rose-Bud.
CHAPTER 94. A Squeeze of the Hand.
CHAPTER 98. Stowing Down and Clearing Up.
CHAPTER 102. A Bower in the Arsacides.
CHAPTER 103. Measurement of The Whale's Skeleton.
CHAPTER 104. The Fossil Whale.
CHAPTER 105. Does the Whale's Magnitude Diminish?—Will He Perish?
CHAPTER 108. Ahab and the Carpenter.
CHAPTER 109. Ahab and Starbuck in the Cabin.
CHAPTER 110. Queequeg in His Coffin.
CHAPTER 115. The Pequod Meets The Bachelor.
CHAPTER 120. The Deck Towards the End of the First Night Watch.
CHAPTER 121. Midnight.—The Forecastle Bulwarks.
CHAPTER 122. Midnight Aloft.—Thunder and Lightning.
CHAPTER 125. The Log and Line.
CHAPTER 128. The Pequod Meets The Rachel.
CHAPTER 131. The Pequod Meets The Delight.
CHAPTER 133. The Chase—First Day.
CHAPTER 134. The Chase—Second Day.
CHAPTER 135. The Chase.—Third Day.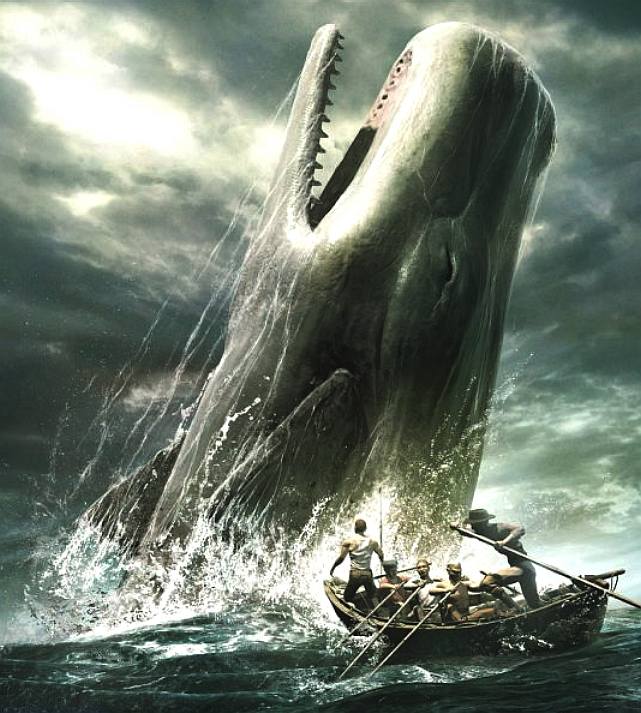 Moby Dick is the antogonist in this story of a great white 'bull' sperm whale that fought back at whalers who tried to harpoon him.
The idea came to Herman Melville after he spent time on a commercial whaler, where stories abounded of the sinking of the Essex in 1821 and Mocha Dick, a giant sperm whale that sank around 20 ships, before being harpooned in 1838.
Herman realised how fixated the sailors became, and he also became with the thought that there was a whale that nobody could catch, that represented a real risk to the whalers hunting whales, in that it was more sport than commercial operations.
Without any doubt this is one of the greatest novels coming out of America at this time and way off the beaten track, making it so interesting, reflecting the state of whaling and the economic importance in the developing the nation - giving the general public a taste of something adventurous that most people never think about.
Many films and graphic novel adaptations have been inspired by the writings of Herman Melville, from Marvel and Disney comics with good cause.
One such production in 2020 is a graphic novel about a giant humpback whale called Kulo Luna, that sinks a modern whaling boat, much as depicted in Herman Melville's Moby Dick, except that is this day and age whales have explosive harpoons to contend with, and sonar, from which there is no escape.
Please use our A-Z INDEX to navigate this site