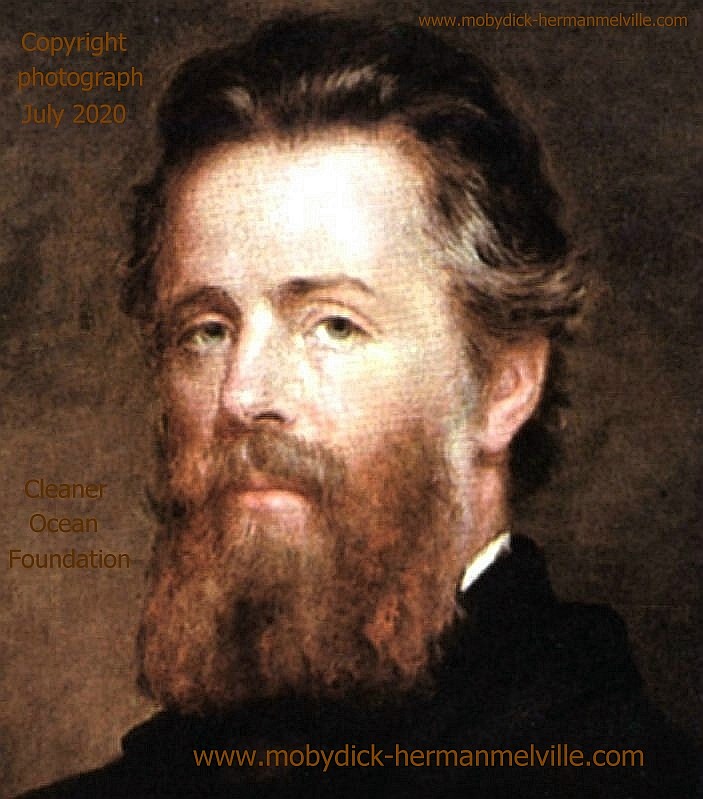 Herman Melville was the author of an account of what we'd now consider an illegal activity, the commercial hunting of whales for oil and meat.
Back <<<
CHAPTER 5. Breakfast

I quickly followed suit, and descending into the bar-room accosted the grinning landlord very pleasantly. I cherished no malice towards him, though he had been skylarking with me not a little in the matter of my bedfellow.

However, a good laugh is a mighty good thing, and rather too scarce a good thing; the more's the pity. So, if any one man, in his own proper person, afford stuff for a good joke to anybody, let him not be backward, but let him cheerfully allow himself to spend and be spent in that way. And the man that has anything bountifully laughable about him, be sure there is more in that man than you perhaps think for.

The bar-room was now full of the boarders who had been dropping in the night previous, and whom I had not as yet had a good look at. They were nearly all whalemen; chief mates, and second mates, and third mates, and sea carpenters, and sea coopers, and sea blacksmiths, and harpooneers, and ship keepers; a brown and brawny company, with bosky beards; an unshorn, shaggy set, all wearing monkey jackets for morning gowns.

You could pretty plainly tell how long each one had been ashore. This young fellow's healthy cheek is like a sun-toasted pear in hue, and would seem to smell almost as musky; he cannot have been three days landed from his Indian voyage. That man next him looks a few shades lighter; you might say a touch of satin wood is in him. In the complexion of a third still lingers a tropic tawn, but slightly bleached withal; HE doubtless has tarried whole weeks ashore. But who could show a cheek like Queequeg? which, barred with various tints, seemed like the Andes' western slope, to show forth in one array, contrasting climates, zone by zone.

"Grub, ho!" now cried the landlord, flinging open a door, and in we went to breakfast.

They say that men who have seen the world, thereby become quite at ease in manner, quite self-possessed in company. Not always, though: Ledyard, the great New England traveller, and Mungo Park, the Scotch one; of all men, they possessed the least assurance in the parlor. But perhaps the mere crossing of Siberia in a sledge drawn by dogs as Ledyard did, or the taking a long solitary walk on an empty stomach, in the negro heart of Africa, which was the sum of poor Mungo's performances—this kind of travel, I say, may not be the very best mode of attaining a high social polish. Still, for the most part, that sort of thing is to be had anywhere.

These reflections just here are occasioned by the circumstance that after we were all seated at the table, and I was preparing to hear some good stories about whaling; to my no small surprise, nearly every man maintained a profound silence. And not only that, but they looked embarrassed. Yes, here were a set of sea-dogs, many of whom without the slightest bashfulness had boarded great whales on the high seas—entire strangers to them—and duelled them dead without winking; and yet, here they sat at a social breakfast table—all of the same calling, all of kindred tastes—looking round as sheepishly at each other as though they had never been out of sight of some sheepfold among the Green Mountains. A curious sight; these bashful bears, these timid warrior whalemen!

But as for Queequeg—why, Queequeg sat there among them—at the head of the table, too, it so chanced; as cool as an icicle. To be sure I cannot say much for his breeding. His greatest admirer could not have cordially justified his bringing his harpoon into breakfast with him, and using it there without ceremony; reaching over the table with it, to the imminent jeopardy of many heads, and grappling the beefsteaks towards him. But THAT was certainly very coolly done by him, and every one knows that in most people's estimation, to do anything coolly is to do it genteelly.

We will not speak of all Queequeg's peculiarities here; how he eschewed coffee and hot rolls, and applied his undivided attention to beefsteaks, done rare. Enough, that when breakfast was over he withdrew like the rest into the public room, lighted his tomahawk-pipe, and was sitting there quietly digesting and smoking with his inseparable hat on, when I sallied out for a stroll.
Next >>>
BOOK CHAPTERS
CHAPTER 26. Knights and Squires.
CHAPTER 27. Knights and Squires.
CHAPTER 29. Enter Ahab; to Him, Stubb.
CHAPTER 39. First Night Watch.
CHAPTER 40. Midnight, Forecastle.
CHAPTER 42. The Whiteness of The Whale.
CHAPTER 48. The First Lowering.
CHAPTER 50. Ahab's Boat and Crew. Fedallah.
CHAPTER 54. The Town-Ho's Story.
CHAPTER 55. Of the Monstrous Pictures of Whales.
CHAPTER 56. Of the Less Erroneous Pictures of Whales, and the True
CHAPTER 57. Of Whales in Paint; in Teeth; in Wood; in Sheet-Iron; in
CHAPTER 61. Stubb Kills a Whale.
CHAPTER 65. The Whale as a Dish.
CHAPTER 66. The Shark Massacre.
CHAPTER 71. The Jeroboam's Story.
CHAPTER 73. Stubb and Flask Kill a Right Whale; and Then Have a Talk
CHAPTER 74. The Sperm Whale's Head—Contrasted View.
CHAPTER 75. The Right Whale's Head—Contrasted View.
CHAPTER 76. The Battering-Ram.
CHAPTER 77. The Great Heidelburgh Tun.
CHAPTER 78. Cistern and Buckets.
CHAPTER 81. The Pequod Meets The Virgin.
CHAPTER 82. The Honour and Glory of Whaling.
CHAPTER 83. Jonah Historically Regarded.
CHAPTER 88. Schools and Schoolmasters.
CHAPTER 89. Fast-Fish and Loose-Fish.
CHAPTER 91. The Pequod Meets The Rose-Bud.
CHAPTER 94. A Squeeze of the Hand.
CHAPTER 98. Stowing Down and Clearing Up.
CHAPTER 102. A Bower in the Arsacides.
CHAPTER 103. Measurement of The Whale's Skeleton.
CHAPTER 104. The Fossil Whale.
CHAPTER 105. Does the Whale's Magnitude Diminish?—Will He Perish?
CHAPTER 108. Ahab and the Carpenter.
CHAPTER 109. Ahab and Starbuck in the Cabin.
CHAPTER 110. Queequeg in His Coffin.
CHAPTER 115. The Pequod Meets The Bachelor.
CHAPTER 120. The Deck Towards the End of the First Night Watch.
CHAPTER 121. Midnight.—The Forecastle Bulwarks.
CHAPTER 122. Midnight Aloft.—Thunder and Lightning.
CHAPTER 125. The Log and Line.
CHAPTER 128. The Pequod Meets The Rachel.
CHAPTER 131. The Pequod Meets The Delight.
CHAPTER 133. The Chase—First Day.
CHAPTER 134. The Chase—Second Day.
CHAPTER 135. The Chase.—Third Day.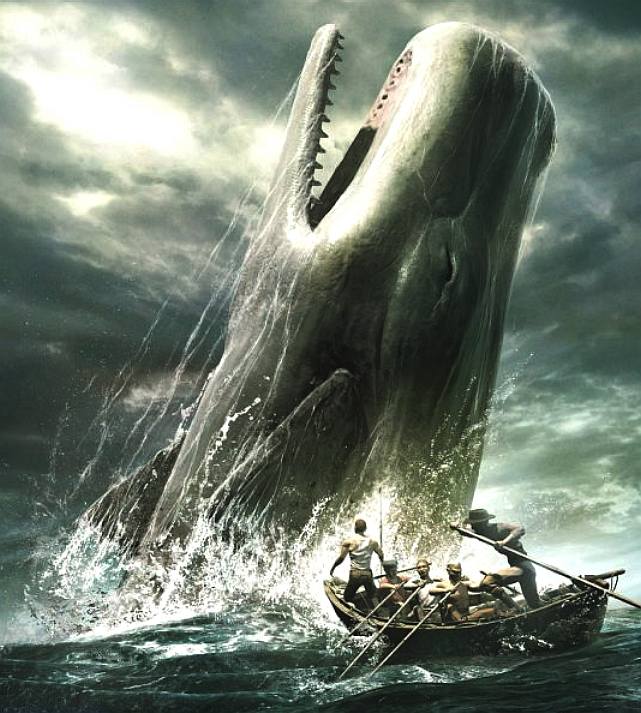 Moby Dick is the antogonist in this story of a great white 'bull' sperm whale that fought back at whalers who tried to harpoon him.
The idea came to Herman Melville after he spent time on a commercial whaler, where stories abounded of the sinking of the Essex in 1821 and Mocha Dick, a giant sperm whale that sank around 20 ships, before being harpooned in 1838.
Herman realised how fixated the sailors became, and he also became with the thought that there was a whale that nobody could catch, that represented a real risk to the whalers hunting whales, in that it was more sport than commercial operations.
Without any doubt this is one of the greatest novels coming out of America at this time and way off the beaten track, making it so interesting, reflecting the state of whaling and the economic importance in the developing the nation - giving the general public a taste of something adventurous that most people never think about.
Many films and graphic novel adaptations have been inspired by the writings of Herman Melville, from Marvel and Disney comics with good cause.
One such production in 2020 is a graphic novel about a giant humpback whale called Kulo Luna, that sinks a modern whaling boat, much as depicted in Herman Melville's Moby Dick, except that is this day and age whales have explosive harpoons to contend with, and sonar, from which there is no escape.
Please use our A-Z INDEX to navigate this site