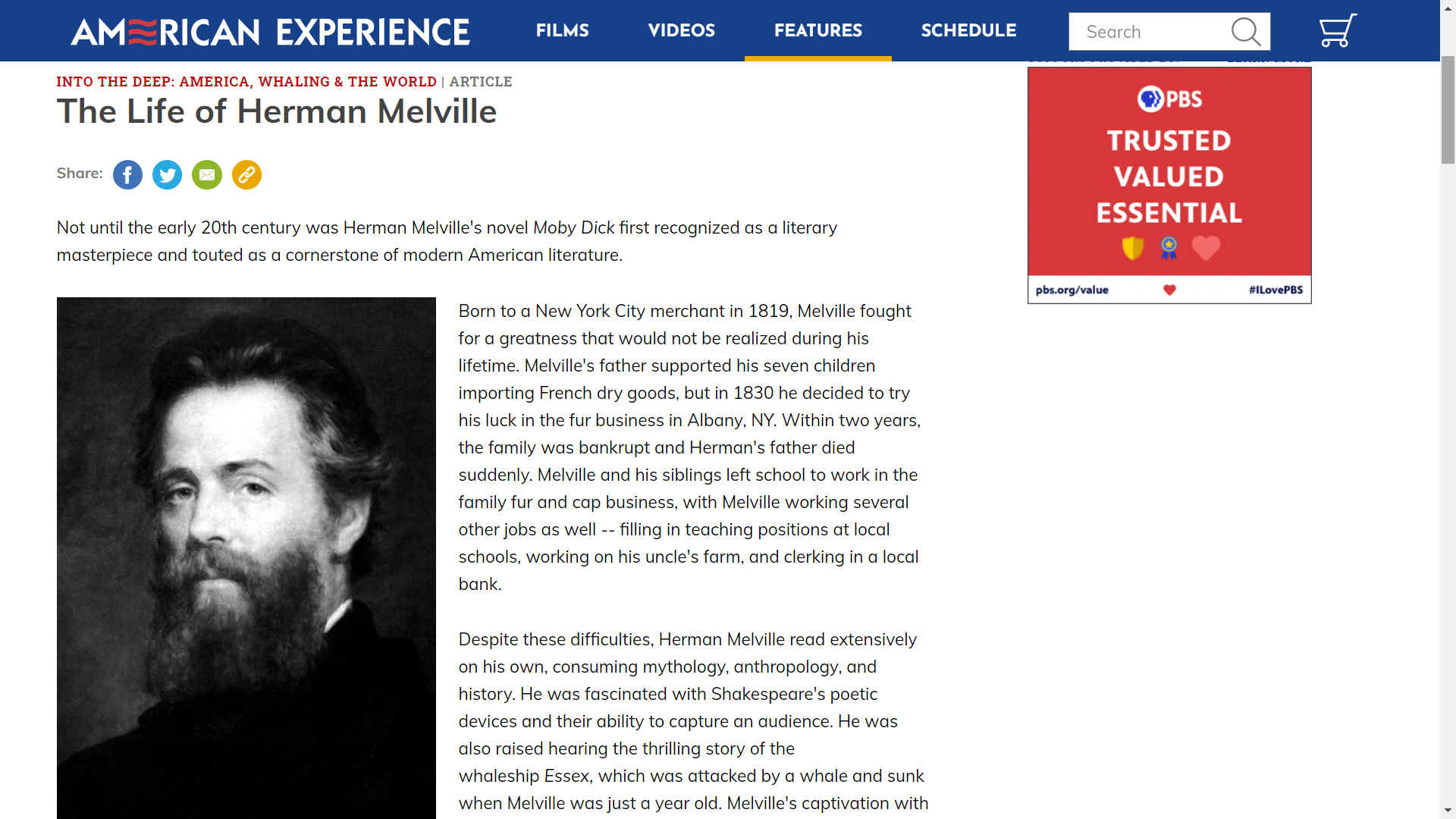 This article gives a relatively in depth overview of the life of the great writer, a son of New York. The critics at the time of release in 1851 had not realised the importance of Moby Dick, or the genius of the writer in creating such an imaginative story from a mixture of real life experience and factual sinkings by catalogued sperm whales. Something that the whaling industry did what they could to suppress. The fact that Herman's death almost went unnoticed in New York by the media, is something of a shocker. Fortunately, Melville lives on as the inspiration for reviews and adaptations that have cast his name in stone, a corner-stone.
PBS

Not until the early 20th century was Herman Melville's novel Moby Dick first recognized as a literary masterpiece and touted as a cornerstone of modern American literature.

Born to a New York City merchant in 1819, Melville fought for a greatness that would not be realized during his lifetime. Melville's father supported his seven children importing French dry goods, but in 1830 he decided to try his luck in the fur business in Albany, NY. Within two years, the family was bankrupt and Herman's father died suddenly. Melville and his siblings left school to work in the family fur and cap business, with Melville working several other jobs as well - filling in teaching positions at local schools, working on his uncle's farm, and clerking in a local bank.

Despite these difficulties, Herman Melville read extensively on his own, consuming mythology, anthropology, and history. He was fascinated with Shakespeare's poetic devices and their ability to capture an audience. He was also raised hearing the thrilling story of the whaleship Essex, which was attacked by a whale and sunk when Melville was just a year old. Melville's captivation with the terrifying grandeur of whales, the audacity of whalers, and the relationship between the two would be a motivating factor behind his writing.

In 1839, at the age of 20, Melville took his first voyage across the Atlantic ocean as a cabin boy on the merchant ship the St. Lawrence. After this expedition and a year exploring the West, Melville joined the crew of the whaling ship Acushnet in January of 1841. The thrilling adventure that occurred during the next three years would satiate his desire for excitement and provide him with his material for his first three novels.

After a year and a half aboard the Acushnet, Melville and a fellow seaman deserted the ship, only to be captured by cannibals in the Marquesas Islands, the Typee. Although Melville was treated well, he sought rescue on the Australia whale ship Lucy Ann when it arrive on the Marquesas a month after his capture. On the Lucy Ann Melville traveled to Tahiti, where his unusual journey continued when he, along with the crew, committed mutiny by refusing their duty. Briefly jailed, Melville escaped and sailed to the nearby island Eimeo, where he worked on a potato farm.

More than five months after deserting the Acushnet, Melville's adventures were not over. Tiring of life on Eimeo, he joined the crew of whaler Charles and Henry, where he worked as harpooner. When the Charles and Henry anchored in Maui Island five months later in April of 1843, Melville took up work as a clerk and bookkeeper in a general store in Honolulu. In August, 1843, Melville enlisted in the US Navy and embarked on the final leg of his journey, working as a seaman on the Navy ship United States through the Pacific.

In October 1844, Melville returned to his mother's house determined to write about his adventures. His subsequent writings borrowed from his own experiences as well as other peoples' fantastic stories that he heard during his travels. Because of his extensive experience as a seaman and a whaler, his descriptions of life out at sea were comprehensive and unflinchingly accurate. Melville was also able to communicate the fear and terror of a whale hunt, a feat that would make his greatest work, Moby Dick, a literary tribute to the whaling industry.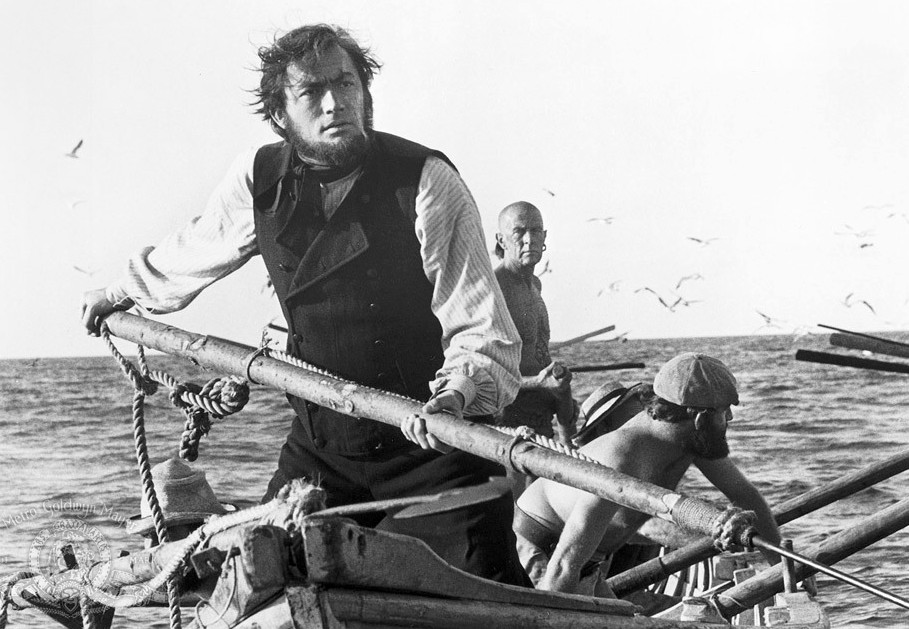 Gregory Peck gave an outstanding performance as Captain Ahab, in the 1956 movie: Moby Dick. He'll take a lot of beating. If they were to combine the special effects of In the Heart of the Sea, with someone as powerful as Gregory Peck to play a new Captain Ahab, we'd be in for a treat. There had been a lot of in between movies of Titanic and King Kong, before they finally made the fantastic CGI versions that have us almost believing the Leonardo and Kate were on the fated ship, or that Naomi Watts had a thing for the big ape.
His first manuscript, a tale in which the narrator, Tommo, is captured by Typee cannibals, was initially rejected in the United States because publishers refused to believe the validity of the story. The story was finally accepted in London, where Melville's older brother, Gansevoort, was working for the American Legation. Typee was published in Britain in February of 1846 to favorable reviews. Lauded for its ethnographic focus exploring the relationship between a New Englander and a foreign culture, Melville's story gained even more popularity after one of Herman's former crewmates came forward to validate its factual base. This new based-on-a-true-story status coupled with Americans' high interest in maritime adventures, helped Typee sell over 6,000 copies in two years when it was published in the U.S.

In the midst of his initial years as a profitable author, Melville married Elizabeth Shaw, daughter of the chief justice of Massachusetts and a close family friend. The chief justice, Lemuel Shaw, would later support Melville in the late 1850s during his financial struggles. With his new bride, Melville moved to New York City to live with his younger brother, mother, and four sisters in late 1847. Despite these crowded quarters, Melville was able to continue writing, and he finished two more novels within two years.

Encouraged by his success with Typee, Melville published Omoo in 1847, a story inspired by his time in the Polynesian Islands of Tahini and Eimeo. Omoo was just as successful as Typee, and Melville immediately began work on his third installment of his maritime adventures, Mardi and a Voyage Thither. Published in 1849, Mardi was not as successful as his previous two books, a fact credited largely to his increased use of allegory and a more farfetched storyline.

From 1849 to 1850, Melville wrote two more novels, Redburn and White-Jacket, both of which he later claimed to write simply for the money and the prestige. These attempts to inflate his image as an author won him general acclaim and the novels were modest hits. Melville moved on to his most prolific endeavor yet - a story about one man's need to conquer and kill a great white whale. Melville had first thought of the idea after reading a 1839 article by Jeremiah N. Renolds entitled "Mocha Dick: Or, the White Whale of the Pacific."

While he drafted what would become the novel Moby Dick, Melville met and befriended Nathaniel Hawthorne, who had recently published the literary masterpiece The Scarlet Letter. Hawthorne provided Melville with precious feedback on his manuscript, and encouraged him to change his current draft, a detailed account of whaling, into an allegorical novel.

In October 1851, The Whale, printed later as Moby Dick, was published in London. The allegorical undertones that Melville cultivated throughout the novel picked up on the link between whaling and a mid-19th century emerging American identity. The story centers around the narrator Ishmael, a sailor on the whaleship Pequod. The ship captain, Ahab, has lost his leg to Moby Dick on a previous expedition, and he is motivated to the point of derangement by revenge for the whale's life. Powered by this plot, Melville's Moby Dick spun the parable of the hunt for the great white whale as an emblem of the human condition and the reckless expansion of the American republic.

Despite Melville's high expectations for Moby Dick, literary critics largely disregarded the novel. Many critics were impressed with the detailed account of whaling voyages, but during Melville's entire lifetime, the book sold only 3,000 copies. Interest in maritime adventures was dwindling as Americans were setting their imaginations towards the potential in the West.

After the disappointment of Moby Dick's reception, Melville faced a battle against obscurity and financial ruin for the remainder of his life. In 1852, he wrote Pierre, a psychological romance based on his own childhood, but a negative critical reception and a poor sales performance cost him a significant amount of his savings. He turned to short pieces and poetry, publishing several pieces in Putnam's Monthly Magazine from 1853 to 1854. The general public ignored his short novel Israel Potter: His Fifty Years of Exile (1855), and Melville entered a period of darkness and depression.

A trip to Europe to visit his friend Hawthorne in October 1856 did little to lighten his melancholy over a lost dream of literary fame. He toured the country from 1857 to 1860, giving lectures on various topics such as "Statues in Rome," "The South Seas," and the vague subject of "Traveling." In 1863, Melville moved back to New York City where he later found a job as a customs inspector on the New York docks.

Throughout his following 20 years as a dock worker, Melville continued writing, publishing the poem Battle-Pieces and Aspects of the War in 1866. The chronological piece included depictions of all types of soldiers from both sides of the war, rendered accurately from a trip to the war front to visit his cousin the year before. Despite being considered among the best poems of the 19th century, Battle-Pieces sold a meager 486 copies.

Further heartache befell Melville when his oldest son, Malcolm, committed suicide in 1867. Again Melville turned to travel to gain perspective and possible writing material. His 1876 poem Clarel: A Poem and Pilgrimage in the Holy Land drew upon his experiences in Europe and the Holy Land and set a baseline for a theme of religious crisis. Melville continued to pen poetry throughout these later years, printing John Marr and Other Sailors privately for friends and family in 1888. Melville was working on the manuscript of Billy Budd, Foretopman, a story about a sailor falsely accused of involvement in mutiny, when he died of a heart attack on September 28, 1891.

In the 1920s, literary scholars began to identify Moby Dick as a work that commented upon larger issues of the American experience in the 19th century. Critics increasingly recognized Moby Dick as one of the greatest pieces of American literature, and they began to discuss the allegorical implications at long last. The novel has been described as both an allegory to the push west (the prairie being the sea) and the Gold Rush (the gold being the whale), and it has been taught in classrooms worldwide for its successful combination of philosophical speculation, Shakespearean rhetoric and dramatic staging while moving an intelligent and authentic, albeit fantastic, plot.

Today, Moby Dick is a staple of many high school curriculum reading lists, and a 1956 film version by John Huston introduced the story into popular culture. In Moby Dick and his other works, Melville was able to incorporate stories of adventure with examinations of many inherently American themes: religion versus science, human limitations and emerging technology, and truth versus American myth. The ramifications that Americans can take from reading Melville center around the immoral manifestation of the democratic ideal that Americans were facing during the height of the whaling industry and one that we still battle with today.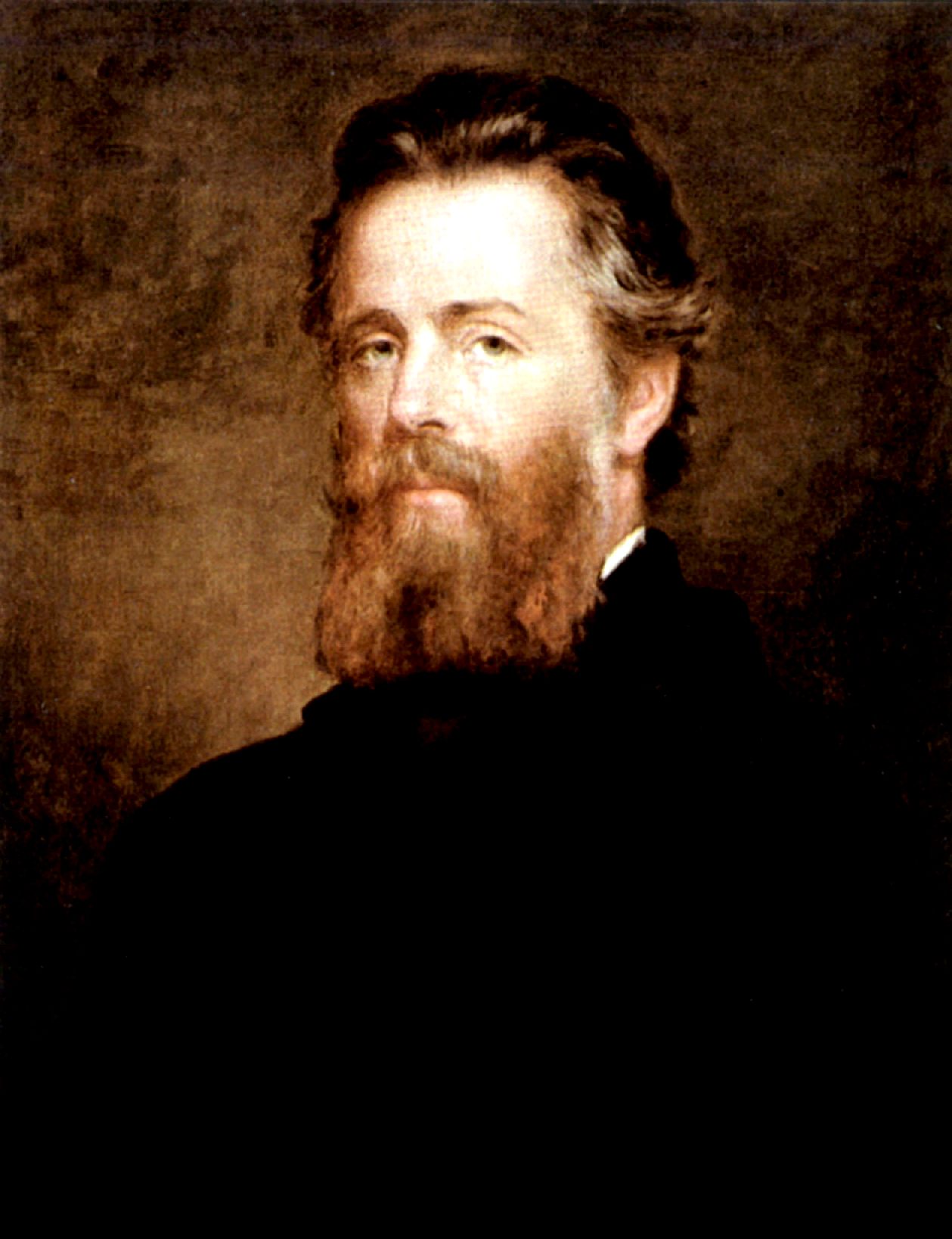 Herman Melville was the author of a novel abut what we'd now consider an illegal activity; the commercial hunting of whales for oil and meat. In capturing the whaling industry at its peak, showcasing the rebellious white whale, in our view he was lobbying for the whales, the innocent victims in his story. Following his death in New York City in 1891, some thirty years later, he posthumously came to be regarded as one of the great American writers.
PBS CONTACTS & STAFF
The WGBH Educational Foundation is an American nonprofit organization that oversees all of the PBS member stations licensed to the state of Massachusetts: the WGBH stations in Boston (WGBH-TV, the foundation's flagship property, and WGBX-TV) and WGBY-TV in Springfield. The foundation also oversees a group of NPR member stations, including WGBH (FM) in Boston, and other productions. Other significant activities include production of prime-time and children's content for PBS and accessible media services for people with disabilities. The foundation won a Peabody Award in 2007 for Judgment Day: Intelligent Design on Trial and Design Squad. WGBH Educational Foundation was established in 1951 in Boston, Massachusetts. Somewhat lacking in transparency, no correspondence address appears to be provided on the WGBH or PBS websites.
Susan Bellows, Acting Executive Producer
Kirstin Butler, Multimedia Producer
John Campbell, Special Projects Assistant
Jay Fialkov, Legal
Janice Flood, Legal
Susana Fernandes, Senior Contracts & Rights Manager
Jaime-Lyn Gaudet, Business Manager
Benjamin Greenberg, Director of Digital Content
Joel Goodman, Series Theme
Eric Gulliver, Digital Producer and Editor
Harper Hutchinson, Assistant Account Executive, Station Relations
Mary Lugo, Publicity
Colin Mahoney, Series Designer
Elias Mallette, Title Graphics
Carolyn McLeod, Audience Engagement Editor
Matthew Midura, Associate Director, Station Relations
Alexa Miguel, Production Coordinator
Lauren Noyes, Editor
Chika Offurum, Director of Audience Development
Charlotte Porter, Development Producer
Vanessa Ruiz, Series Producer
Paul Sanni, Post Production Editor
Sydney Schechter, Co-op
Nancy Sherman, Supervising Producer
Cara White, Publicity
Tsering Yangzom, Digital Producer
Violet Zarriello, Marketing Manager

Digital Services
Heather MacDonald, Senior Director of Digital Product Development
Bob Donahue, Senior Web Developer
Ken Kimball, Senior Design Manager
Amelia Leason, Senior Digital Designer
Carl Lindberg, Director of Technology
Jay Thompson, System Administrator
Li Wei, Lead Digital Designer
Alan West, Director of Administration
HERMAN'S SHORT STORIES
Bartleby, the Scrivener
Benito Cereno
Cock-A-Doodle-Doo!
The Encantadas
The Paradise of Bachelors and the Tartarus of Maids

HERMAN'S BOOKS

Typee (1846)
Omoo (1847)
Mardi (1849)
Redburn (1849)
White-Jacket (1850)
Moby Dick (1851)
Pierre (1852)
Israel Potter (1855)
The Confidence-Man (1857)
Billy Budd (1924)
Herman Melville was born in New York City on the 1st of August 1819. He died on the 28th of September 1891. He was an American novelist, short story writer and poet of the American Renaissance period. Among his best-known works are Moby-Dick (1851), Typee (1846), a romanticized account of his experiences in Polynesia, and Billy Budd, Sailor, a posthumously published novella. The centennial of his birth in 1919 was the starting point of a Melville revival, when Moby-Dick began to be considered one of the great American novels.
Herman Melville's Moby Dick, is the story of a great white sperm whale that fought back at whalers who tried to harpoon him. The idea came to Herman Melville after he spent time on a commercial whaler, where stories abounded of the sinking of the Essex in 1821 and Mocha Dick, a giant sperm whale that sank around 20 ships, before being harpooned in 1838.
LINKS & REFERENCE

american_experience@wgbh.org
https://www.pbs.org/wgbh/americanexperience/features/whaling-biography-herman-melville/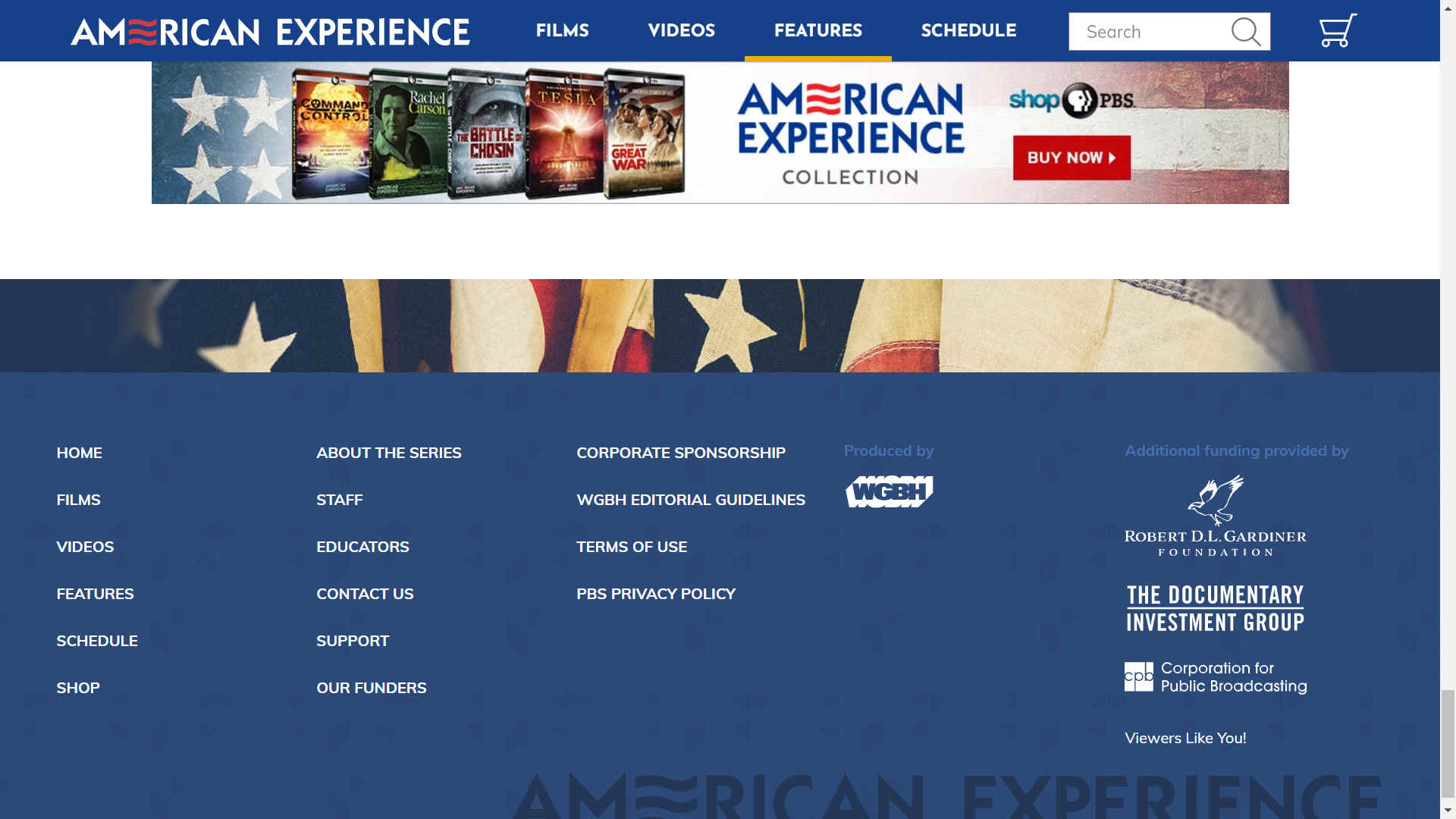 Please use our A-Z INDEX to navigate this site